A key task of every fundraiser is following up with donors regarding their pledged donation amounts.
Often, donors are willing to donate more than they are currently able to, and pledge to make one or more additional contributions at a later date.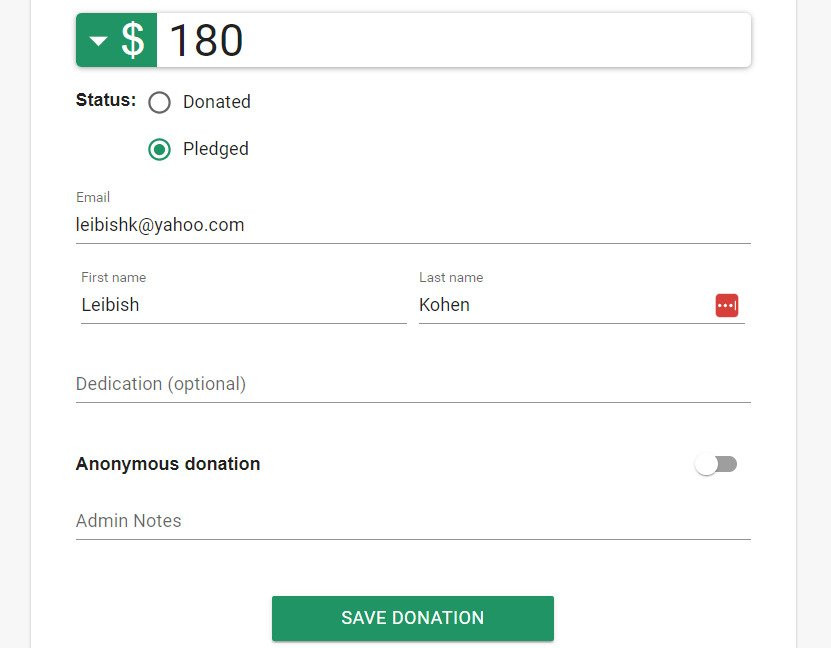 Keeping track of whether a pledge has been paid yet can be a time consuming and confusing task, especially if there are multiple pledges and donations running simultaneously.
The Chesed Fund's newest update to its manual donations form allows for easy tracking of pledge fulfillment, simplifying the process of keeping track of amounts paid and following up with donors.
Now, when manually registering a new donation, there is a choice between marking it as paid or pledged. If pledged, this information will be displayed alongside the donation, ensuring that this pledge doesn't get lost in the shuffle.

When a donor makes a payment towards their pledge, you can keep track of it within the donation's details, and its status will go from "unpaid" to "partially fulfilled". When the donation is paid for in full, the donation will be marked as "fulfilled" automatically.
This is part of a host of tools that the Chesed Fund offers fundraisers to simplify their fundraising operations, but online and off. Stay tuned in the coming months for additional features we are hard at work on that will further simplify your fundraising experience.